What is this lash boost?
What is this lash boost? I am hearing about it all over the place and I finally, I had to try it. You see, I was born with a condition called, "my eyes are bald". Yes, you read that right. I had no eyelashes. Well, I did, but no-one could see them. You ever had that problem? It is not fun at all. I have had this problem since I can remember being aware of them and it drives me crazy!
I have tried every single plumping, lengthening, thickening mascara out there. They didn't work. I tried some organic product that puts some type of feathers on your lashes as you brush it on, this is to help thicken and lengthen. It did not do that. As a matter of fact, I ended up having an allergic reaction to it. This left me with runny, watery eyes and no eye makeup left on whatsoever.
I was then given the opportunity to try Latisse. I am sure Latisse works, I tried it one month and saw nothing. Latisee costs around $100 each month and then you have to get more, spend more money and it probably works after that. I did not have the finances to keep dipping into this venture, so after one month, no change.
I was looking at extensions, everything. Than I saw where Rodan + Fields came up with this eye lash boost. I was skeptical at first, but then I started seeing results all over social media. I even had a friend who used it and her eyelashes were gorgeous. Could this product work? Could this be the answer?
I bit the bullet and spent $120 to order it. I know that is a lot, but it boasts to last at least two months. I am on month four, and still have some left, so you do the math! The first month, I didn't see a change. By the second month, I started to see a little sprout and then by month three the above is my result. I have eyelashes. Above is my eye with mascara and below is my eye with nothing.
With Mascara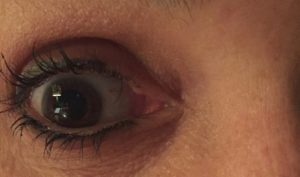 Without Mascara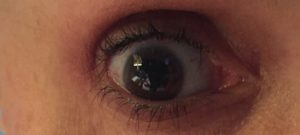 As you can see, I do have eyelashes now and I can use any mascara and I still have eyelashes! I find this product to be great and well worth the money. I would not be on here if I didn't feel that way. So, the next time you think about trying this, message me and let me know how to get it for you. You won't be disappointed!