J Crew Transitional Pieces – On Sale Now!!!!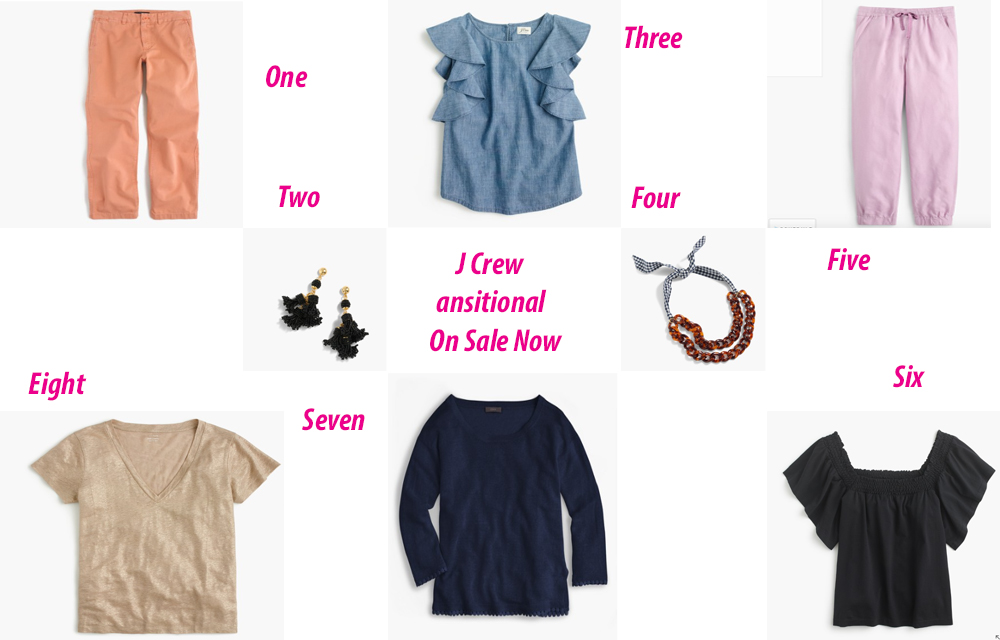 Disclosure: This post may contain affiliate links, which means I may receive a commission if you click and link and purchase something that I have recommended. While clicking these links won't cost you extra money, they can help me keep this blog up and running. Thank you for your support.
This can be a hard time of year to dress. We hear back to school and we think fall weather, but not right now. Back to school is in August and it is still pretty warm weather wise. While we wish that we could pull out our sweaters and dress in our boots, there are some cute transitional items in most of the summer clearance sales that you can wear during this time. These don't look too summery, but can help you get to the cooler weather. Above I have some from J Crew. These are on sale right now and you can take an extra 50% off with the code Yaysale. These are just a few of the items I found.
One – these are some great chinos for everyday. They are super comfortable and come in two different colors. They are called the boyfriend chino and right now they are on sale for $29.99 with an extra 50% off.
Two – what is a girl without her accessories???  These earrings are precious. They are $59.99 with an extra 50% off.
Three – this chambray ruffle top is so light and cute. It is $54.99 with an extra 50% off and it comes in another color as well. I think the other color is a little light for fall, but you can really get away with wearing anything these days.
Four – this is another accessory. I love this necklace. It does come in two different colors and I love the ribbon tie around the neck. This is a great piece really for all year around. It is $34.99 with an extra 50% off.
Five – these are the seaside pants. I have pink in the picture, but they come in a couple of other colors. I love these, they are so comfortable and are really lightweight for this time of year. They are $64.99 with an extra 50% off.
Six – this square neck top is great. It fits loose all over, but is true to size. It hits right below the waist. It also comes in a couple of different colors. It is $29.99 with an extra 50% off.
Seven – this pom sweater is great. It is made of linen and cotton, so it is very lightweight for right now. It comes in four different colors and is $39.99 – $49.99 with an extra 50% off.
Eight -I love this metallic tee. It comes in gold and silver metallic. It is super comfy and goes with pretty much anything. It is $24.99 – $29.99 with an extra 50% off.
These are just a few of the items that I found on sale at J Crew that could transition into the cooler fall weather. There are many more, so be sure to go and check it out.