It is time to show off those toes!
I love shoes for Spring/Summer. With the weather going from 50 to 80 here in Alabama, I started to seek out some shoes that I knew I would get a lot of wear out of. I will get shoes from anywhere, just as long as they are cute and comfortable. I do prefer leather shoes, but on occasion, I will find some cute fabric shoes that are must haves. My friends and family tell me to put the brakes on the shoe shopping, but when I see a shoe that is cute and comfortable, I just have to add it to my wardrobe. Above are some of my latest must haves for the season.  Starting from the top and going clockwise: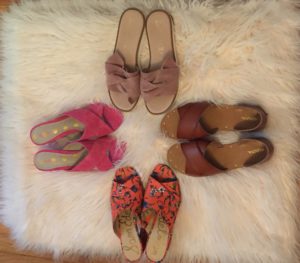 Pink bow suede slides. These are from Seychelles. They are Italian leather and are very comfortable. They are so comfortable, if you teach and have to be on your feet all day, your feet will thank you.
The brown leather sandals are from Target and are by Merona. These are real leather and they are also a 10 in the comfort zone. They are flat, and I know that some people don't really like flat shoes, but the comfort of the leather is worth it.
The orange print are from Sam Edelman. These are an orange and blue print and are made of cloth. I love them! I have only worn them once and had people stop me and ask me about them. They are comfortable and just add pop to any outfit.
Last but not least, are the fuchsia suede shoes. These are from Boden and are great. I needed some shoes this color to wear with various spring/summer outfits and when I saw these I knew that I needed them. They are great and your feet will thank you!