Friday Finds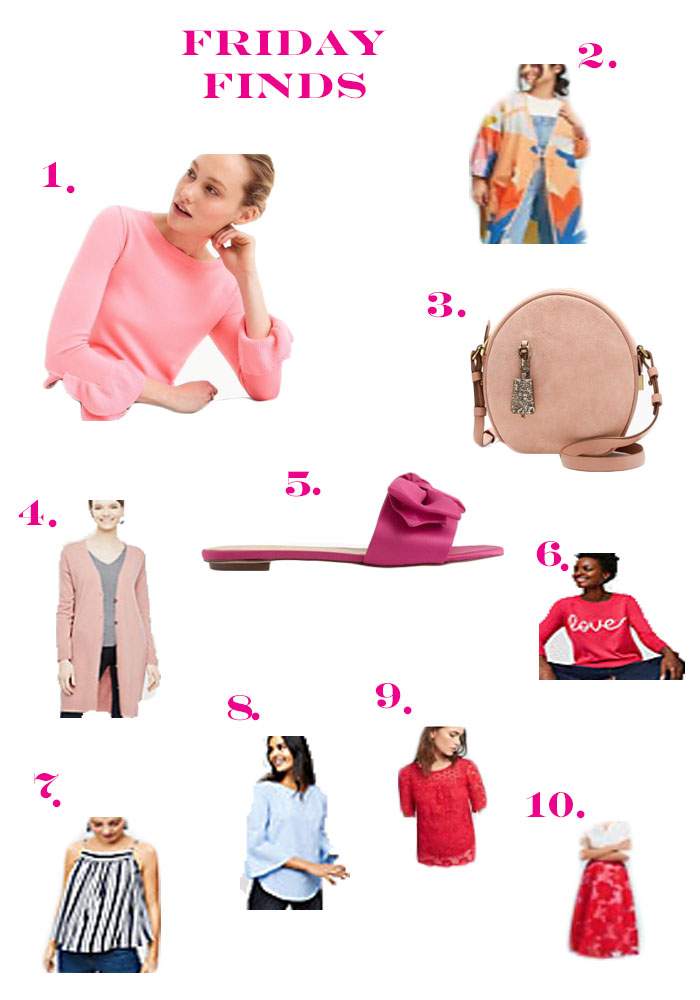 During the week, I did a little searching on the internet. I found some great new arrivals that I wanted to share with you guys. Most of these are "springy", meaning they are geared towards warmer weather. With the weather we are having here, one day you think spring is just around the corner and the next we get a winter storm! Today just happens to be warmer and sunny, so I thought these items were perfect!
1 – I love this sweater!!! It is from J. Crew and comes in three colors, but of course I love the pink! It is perfect for Valentine's Day and light enough to wear in the early spring.
2 – I think it has been established that I love kimonos. This one is no exception. It is lightweight and in such bright colors, it screams spring! This is something that can be worn for awhile, until it gets super hot! It is from Anthropologie!
3 – This is the cutest purse ever. It is from J Crew and while it is probably not big enough for everyday, it is great for special occasions. It comes in a few different colors and is something I feel I will be adding to my wardrobe very soon.
4 – You can never have enough cardigans, especially the long ones that you can throw over a cami or a tee. This is the perfect necessity for those colder spring nights and even the cooler summer ones, and we all need a pink cardigan! This one is from Ann Taylor and is on sale right now!
5 – These slides are just adorable. They are from J Crew and can be worn now and even in spring and summer. They also come in a blue color that is quite stunning also.
6 – With Valentine's Day right around the corner, this sweater is perfect. With Love across the front and the red color, it is something that will be perfect for getting in the Valentine's day mood. This is from Loft and is on sale right now.
7 – We all need a great cami. This one can be worn alone or under a cardigan. It is going to be something that gets a great deal of wear in the spring and summer in my wardrobe. Check it out at Loft.
8 – This top is great. Pearl embellishments are really on trend right now and this top does not disappoint. It also has the bell sleeves that are a favorite! It is from Loft!
9 – I love a good lace top and when I saw this one, I fell in love. The color is fabulous and it will go with so many things. It can be worn for a casual or more dressy look. It is from Anthropologie.
10 – Finally, I found this great red skirt. It is adorable! The color is great and it can be worn in many different ways for a more casual or dressy occasion. Check it out at Anthropologie.
Let me know some great things you have found!!!